We create a cozy cinema space at home
Subject: Electronics | Date: 14.12.2021
TCL, a major Chinese electronics, mobile and home appliance company, unveiled the world's first 75-inch display for 8K TVs in the fall of 2021. An innovative feature of the device is the frame refresh rate of 265 Hz. This parameter is twice the functionality of standard models, for comparison TVS with a resolution of 8K (120 Hz). p>
In addition, TCL has announced the highest quality 85 "IGZO LCD display. It remains to wait for the appearance of new products on sale, but for now you can prepare by thinking over all the nuances of organizing the cinema space at home.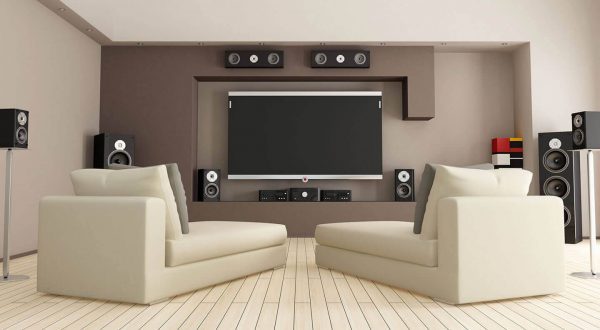 Required Items
To create a real miniature cinema in one of the rooms of the dwelling, in fact, you do not need to do anything supernatural. But you will need to prepare the required details:
large screen TV (at least 60 inches);
speaker system;
a comfortable sofa or several armchairs;
window filters (so you can enjoy watching movies at any time of the day).
No matter how powerful a TV speaker is, you shouldn't give up using a professional speaker system if you want to achieve maximum immersion in what is happening on the screen. The set of acoustics consists of several speakers and a subwoofer that reproduces low-frequency sounds.
The most popular are two types of audio systems: 5: 1 and 7: 1. In the first case, there are five speakers per subwoofer, and in the second, there are, respectively, seven. Choose based on the size of the room. The larger the home theater room, the more speakers you will need.
Do not forget about the soundproofing of the room. Your neighbors are unlikely to enjoy constantly watching (more precisely, listening to) movies with you. Therefore, you will need to cover the walls with sound-absorbing materials in advance.
Correct item placement
It is also important to pay special attention to it:
The TV should be the centerpiece of your home theater system. The rest of the furniture and appliances line up around him.
Place the sofa or armchairs clearly in front of the TV.
Speakers are usually placed on the sides of the screen. In some cases, the speakers are partially hung above the TV to further enhance the sound effects. It is advisable to entrust the selection and installation of acoustics to professionals.
If the home theater room is large enough, place the TV as far as possible from the window. This will minimize noise from the street.
Proper lighting
An important nuance. Too bright light or, on the contrary, pitch darkness will interfere with enjoying movies. Plus, they will have a bad effect on vision. A sensible option is soft and unobtrusive lighting, adjustable in direction and brightness. Spotlights are ideal, as are string lights and panels.
Place soft lights evenly throughout the room. Avoid hanging chandeliers. The latter will react to sound vibrations from the speakers, start to rattle, disrupting the cozy atmosphere of the home cinema space.
If you don't want to miss a single interesting price offer, go to the Comfy.ua website and stay tuned for product updates. Make your tech shopping productive and profitable!