Catalog of wholesale and retail trade
Program for searching information about companies
Electronic catalogue of enterprises — telephone directory on the enterprises of Ukraine series «Business-Guide™. The Enterprises of Ukraine. Wholesale and retail trade: more than 164000 companies» includes branchеs:
Car and motorcycles trade, technical service and repair
Wholesale and wholesale mediation
Retail trade; domestic wares and articles of the personal consumption maintenance
The program with an intuitive user-friendly interface, fast search, the ability to edit the database, delete and add data, saving a selection to a separate file and exporting data to HTML format. There is a possibility of forming lists for mailings (printing of envelopes and stickers). Access to the following information is provided:
The enterprise name
Types of activity according to KVED
Legal, postal and actual address
Telephones, fax
Email
Website
Head, chief accountant
Products and services
Minimum system requirements:
from 1 GB of RAM
100 MB hard disk space
Windows XP/WinWindows 7/Windows 10
How to get:
Downloading from our server and receiving a registration key by e-mail after payment
When installing up to 3 computers
PDF presentation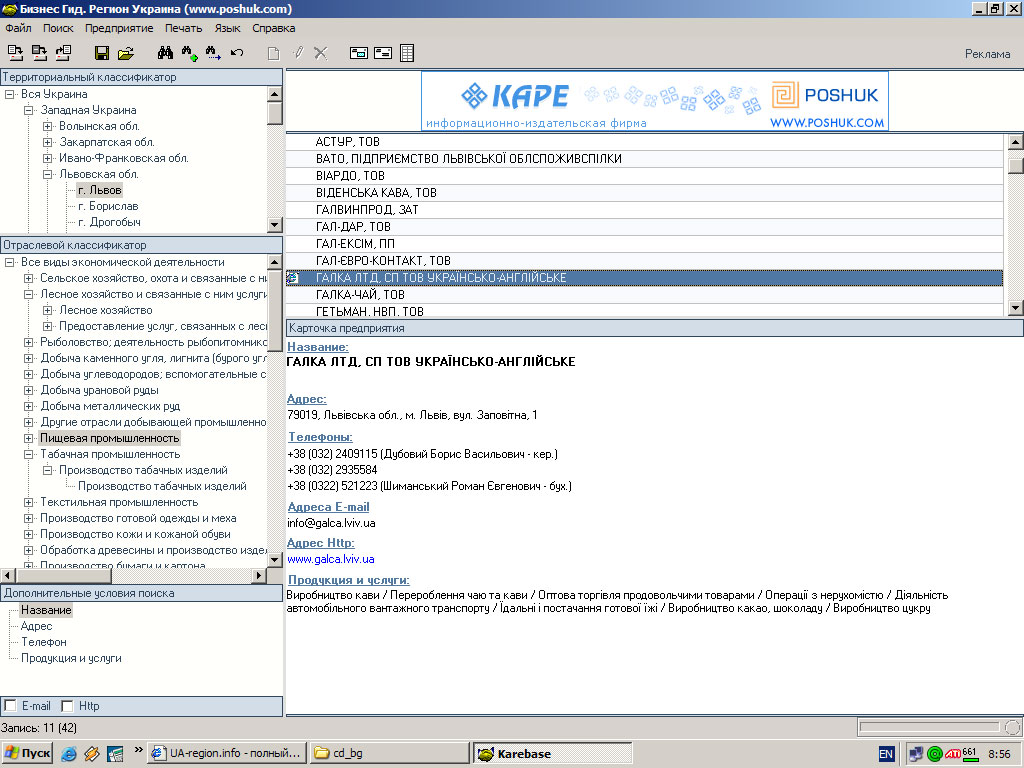 ---
Note. Information business directories of a series the Bussiness-Guide™, and also regional and branch databases are delivered according to the standard principle in world practice «AS IT IS». The developer and distributor do not take the responsibility for problems arising in the process of exploitation of reference books and databases. The developer and the distributor do not take the responsibility for a possible damage as a result of use of the given software and databases. The developer and distributor do not take the responsibility for indirect losses or for a damage to the enterprise, the lost of expected profit, arisen in connection with liquidation or change of requisites of the organizations brought in databases or directories.