Databases in EXCEL
We are ready to create a client database in Microsoft Excel format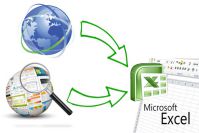 The generated database is a classic EXCEL file, in which in separate columns contains detailed information about Ukrainian companies. Excel documents are easily integrated into online applications and can be used for mass mailing - no manual input.
All the data that you may need are indicated in the appropriate cells: company names, address, name of the head, contact phones, KVED activities, e-mail addresses, EDRPOU code and other information.
It is also worth noting that all EXCEL files can be edited, so you you can always supplement them with your own data, for example, the results of cold calling, the date of its implementation or the date of the next call. The undoubted advantage of databases in EXCEL is that most software supports import from files of this format.
The collection of all information is carried out by special software, the progressive algorithms of which provide prompt receipt of the most relevant data, but, of course, after collecting all the information received goes through the process of careful sorting and detailed processing. This approach allows us to provide clients with already processed data and without duplicates.
We are a leader in our business because we offer the most complete and up-to-date databases for any industry and region of Ukraine.
---
Note. Information business directories of a series the Bussiness-Guide™, and also regional and branch databases are delivered according to the standard principle in world practice «AS IT IS». The developer and distributor do not take the responsibility for problems arising in the process of exploitation of reference books and databases. The developer and the distributor do not take the responsibility for a possible damage as a result of use of the given software and databases. The developer and distributor do not take the responsibility for indirect losses or for a damage to the enterprise, the lost of expected profit, arisen in connection with liquidation or change of requisites of the organizations brought in databases or directories.